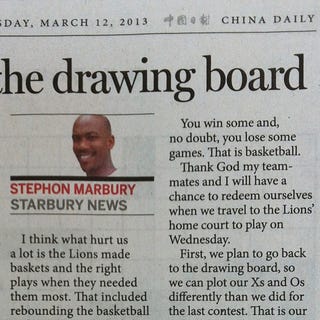 When we last heard from Stephon Marbury, a statue of him was being unveiled in Beijing and Dennis Rodman gave the dedication speech. He had a nice thing to say about Mike D'Antoni. He refused to interview with SI unless he would be on the cover. He was accused of sending a Shanxi fan to the hospital, which he denied. He did his own laundry.
Now 36, Marbury has been playing basketball in China for a little over three years. After brief stints with the Shanxi Zhongyu Brave Dragons (his departure was described as "acrimonious") and Foshan Dralions (whom he left with a bizarre series of tweets), he is in his second year with the Beijing Ducks, whom he led to the CBA title last season after scoring 41 points against the defending champion Guangdong Tigers in the decisive contest. This season, he's averaging 28.2 points per game.
And he has a blog.
Here are some stand-out one-liners from his latest, Back to the Drawing Board, a post that followed a tough loss to the Shandong Golden Lions.
We also did not play with our normal intensity. I do not know why, and I will not make excuses.

I scored 28 points and dished out 10 assists in our defeat, but my stats matter little becausewe lost.

You win some and, no doubt, you lose some games. That is basketball.

We may have lost our first battle against Shandong, but we are still in this war.
Photo via Reddit
Ryan Glasspiegel writes Sports Rapport. He's been published on The Awl, Romenesko, Outkick the Coverage, and The Classical. Follow him on Twitter @SportsRapport