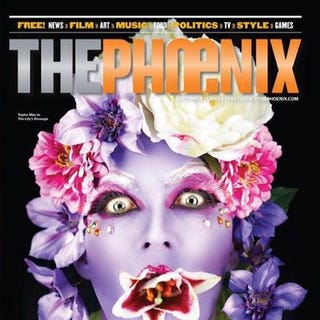 Yesterday, we received news that The Phoenix, a Boston alt-weekly that had been in print since 1965, would shut it doors. The paper's sports alumni include George Kimball, Charles Pierce, Mike Lupica, and Bill Simmons. Because I don't think I ever actually read The Phoenix, I would lack sincerity in trying to form overarching conclusions about the significance of this event.
However, it has still been interesting as a young-ish writer to see some of the retrospectives. Charlie Pierce's on Grantland stood out:
God, it was a carnival. I saw the publisher twice get into punch-ups, once with a staffer and the next time with a janitor. And, in both cases, it was at a Christmas party. We never got paid much, but we did get paid, and we were able to write about what we wanted to write the way we wanted to write it. We were a legitimate institution of Boston eccentricity, and we were proud of the fact that we were recognized for being that very thing. In 1982, when the 76ers beat the Celtics, and the Garden erupted into a chant of "Beat L.A.!," the great Bob Ryan interviewed Darryl Dawkins and found Michael Gee, then covering the game for us. You have to have this quote, Ryan told him, because we can't use it. Ryan had asked Dawkins what he felt like when he heard that chant from a Boston crowd.

"Man," Dawkins said, "when I heard that, my dick got stiff."

If I recall correctly, that was Gee's lead.
Introducing Pierce's column on his Facebook page (insert Twitter suspension joke here), Bill Simmons wrote:
The Phoenix was the first place that paid me to write in my own voice, and gave me enough space to do my thing. (At least for a few months before a new editor came in who didn't like sports and dumped my column. But that was such a fun few months, I loved being in there.) I can't believe they screwed it up so badly that they couldn't even turn it into a successful website, that's almost impossible. Place was an institution. And launched a bunch of careers. What a bummer. Print is dying because just about everyone in power for newspapers/mags from 1999 through 2010 failed to understand that the Internet wasn't going away, and they either had to adjust or die. They didn't adjust.
In the Grantland piece, Pierce recalls his first interaction with George Kimball, a longtime sportswriter and editor for The Phoenix:
My first week at the paper, I went into the Eliot [the lounge across the street from the paper] and Kimball was there, with his head on the bar. I introduced myself. He opened the one eye that he still had and said:

"Hey, you got any speed?"
Alex Belth profiled Kimball for Deadspin in 2011:
George once wrote a story for the Phoenix about Opening Day at Fenway Park. He sat in the now-fashionable bleachers, no longer the intimate place he'd known in the early Sixties. When George returned to his seat from a beer run, "The guy who'd been keeping my scorecard wanted to know what the funny little illegibly-scrawled notes in the margin were all about," he wrote. "I briefly considered a number of spectacular fabrications, but finally admitted that I wrote for the Phoenix and planned to do a story of some sort about Opening Day.

"'Oh, yeah?' He eyed me strangely. 'If you're a sportswriter why the fuck are you sittin' here,' he gestured toward the press box. 'Instead of up there?' The fact of the matter was that the Red Sox had declined to provide the paper with press tickets, but for some reason I mumbled that I liked it better in the bleachers. At one time that would've been true; today it made me twice a liar."

Again: I don't think I'm able to opine on what the death of The Phoenix, specifically, means in any greater sense without feeling insincere. I do, however, believe that I have been tangentially influenced by the institution. No matter how slow and/or hardheaded the people at the top were or weren't in adapting to the realities of the Internet market, it's always sad when these newspapers fold, their legacies are curtailed, and writers and editors lose their jobs.
Ryan Glasspiegel writes Sports Rapport. He's been published on The Awl, Romenesko, Outkick the Coverage, and The Classical. Follow him on Twitter @SportsRapport